Scholarship of Teaching and Learning Grants
Grant Stream 3
People: Individual or collaborative
Duration: One or two years
Funding Amount: 
Individual projects: Up to $10,000 per year to a maximum of $20,000 for two years
Collaborative projects: Up to $20,000 per year to a maximum of $40,000 for two years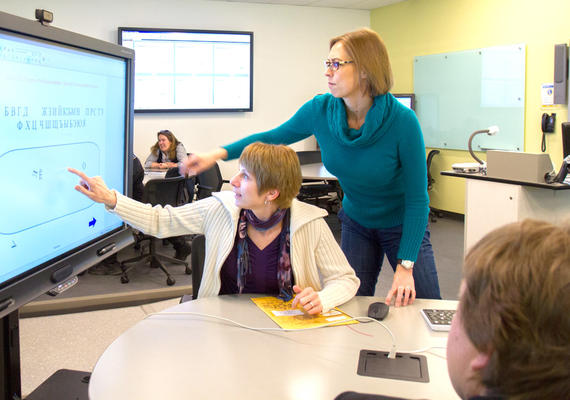 Who is this grant for?
The scholarship of teaching and learning (SoTL) project, which can be individual or collaborative, is designed to answer that question by making relevant student learning visible and then systematically analyzing this evidence. The SoTL is a synthesis of teaching, learning and research in post-secondary education that brings a scholarly lens—the curiosity, the inquiry, the rigour, the disciplinary perspectives and attention to larger conversations—to what happens when learning happens (or doesn't). Recipients will draw on their discipline-based expertise to develop a research or inquiry project anchored by a meaningful question about student learning and the activities intended to facilitate that learning. 
Sample SoTL Grant project
"Developing historical case studies for teaching geoscience concepts" by Glenn Dolphin (Geoscience) & Wendy Benoit (Chemistry), 2014
Case studies have been used as a mode for teaching in law, medicine and business for decades. Only recently has attention turned to their advantages in science education. In particular, our project focuses on historical case studies, taking an important geological development or biographical figure and building a narrative around that subject as a way to give context to the geologic content to be taught. Cases are co-created with a team of both faculty and undergraduate students. The first phase of the project included the development of three case studies, teaching aspects of continental drift, stratigraphy, and radioactivity. In the second phase, four more cases are being developed to look at study of the seafloor, extinction of the dinosaurs, meteorite impacts, and developments in anthropology. We have already conducted pilot studies of the first three cases within multiple class structures (15 – 300+ students) and they are in their final round of edits. We also hope to get them published in a journal and as an on-line resource to enable a wide audience to use them. In addition to the cases as products of the project, the undergraduate research assistants have gained experience doing independent research in the history of geology. They have interacted with historians and philosophers of science as they built and revised their cases. They have participated in the implementation of the cases in multiple university classes. They have presented numerous times to scientists, historians and philosophers of science, and science educators, traveling as far as Rochester, NY, and Brazil. Finally, this year, we will be studying transcripts from our weekly group meetings from the phase 1, in an attempt to shed some light on the process of independent undergraduate research.
There is also a Special Topic track to support the broader work of the university and its varying initiatives to align activities with larger goals and values. Learn more