Development and Innovation Grants
People: Individual or collaborative
Duration: One year
Funding amount: Up to $7,500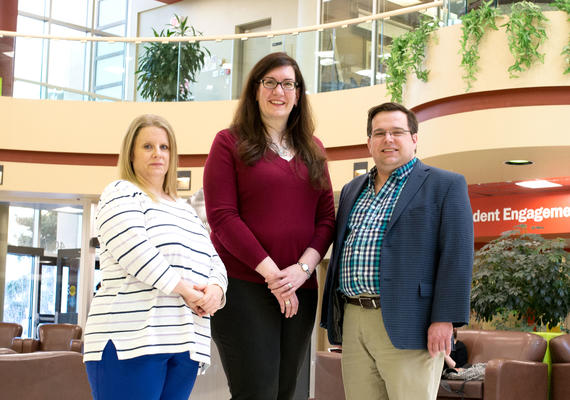 Who is this grant for?
This grant stream supports teaching and learning projects in developing something new or elaborating on something already in place at the University of Calgary. The scope may vary from individual activities to entire programs, such as the creation of new resources, the implementation of new practices or the (re)design of activities, courses or programs. Development and Innovation Grants are one-year grants and can be individual or collaborative. Recipients will share their work with relevant campus audiences to benefit the practice and understanding of others.  
Sample Development and Innovation Grant Projects
Anthony Seto – Faculty of Medicine
Collaborators: Jian Choo, Mackenzie Margetts, Nazia Sharfuddin, Mitchell Rohatensky, Sean Crooks, Lucas Streith, William Kennedy, Nathan Zondervan, and Nicole Ertl
On-call clinical clerks are faced with impromptu electronic alerts that need immediate response. One opportunity to train learners for these clinical firsts are transition-to-clerkship courses. At the University of Calgary, the "Intro to Clinical Practice" course prepares trainees for clerkship rotations.
The "BEEP-BEEP SIM" educational innovation introduces on-call simulation training for medical students, through the gamification of learning by borrowing elements from escape games.
Teams of 5 students will have the opportunity to respond to 6 pager scenarios. 6 doors will be accessible to the students, with each door labelled with an electronic text-page to the students (the on-call scenario). Behind each door contains a series of activities to challenge and teach students content. Successful completion of each room occurs when the students unlock a box that contains a summary card of the teaching points for that room. The physical ability to travel from room to room parallels the theme of being on-call. Once all 6 rooms are complete, a debrief session highlights teaching points.
The self-determination theory suggests that people are motivated when the needs of competence, autonomy, and relatedness are met. Students achieve competence through an active learning modality and peer-teaching. Students have the autonomy to select which patients they would like to manage first. Students learn through collaboration. Repetition in the activity is deliberately integrated, where students initially explore the material, then rehearse it through the summary cards, and retrieve and reconsolidate the material one final time in the debrief.
Sharon Mascher – Faculty of Law
I would like to develop an infographic-coloring brochure to assist students to understand the Canadian approach to carbon pricing. Focused on the Pan-Canadian carbon pricing framework and the Alberta, BC and Quebec carbon pricing systems, this infographic-coloring brochure will provide an opportunity for students to engage with the complexities of this substantive area. This innovation will provide a multi-sensory product around which students can engage within the classroom and communicate about these complex legal tools outside the classroom. In keeping with the University of Calgary's Institutional Sustainability Strategy, the ultimate goal is to develop an innovative tool that equips my students – future lawyers – to be 'thoughtful, communicative citizens and leaders' (at 6) who are fully able to engage in the ongoing national and provincial conversation relating to carbon pricing.