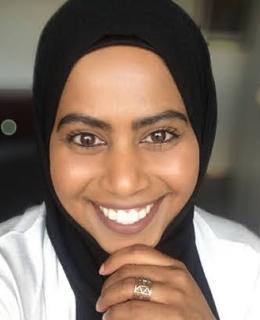 Positions
Educational Development Consul
Taylor Institute for Teaching and Learning, TI Academic and Research Team
Contact information
My preferred mode of communication is email
I'm looking for...
Research partners
I am interested in collaborating with fellow scholars on research related to frameworks and models that discuss embedding equity, diversity, and inclusion in the curriculum 
Background
Educational Background
PhD Educational Research (Leadership), University of Calgary, 2019
MA Educational Administration and Supervision, Loyola University Chicago, 2011
BSc Human Environmental Studies, Southeast Missouri State University, 2004
Biography
Fouzia has spent the last 10 years immersed in EDI within an educational context as a researcher, educator and consultant. Her educational development experience spans across the K-12 and postsecondary context. Identifying as an "Anti-Oppression" educator herself, Fouzia has taught several courses in the Werklund School of Education focusing on topics such as diversity for learning and learning theories. Fouzia's doctoral research focused on inclusion within Dubai's educational system, whereby she provided guidance to reshape administrators' and policymakers' perceptions of inclusion practices for students with specific learning needs. She brings important international experience to the TI, working for the Higher Education Department for the Government of Dubai, supporting large-scale projects related to student engagement and satisfaction, and quality-assurance processes across Dubai's entire postsecondary sector.
As an educational development consultant, Fouzia works to advance equity, diversity and inclusion (EDI) initiatives across the university's teaching and learning communities. She works with individuals and groups on incorporating EDI values and principles, including anti-racism practices, in postsecondary teaching and learning contexts. She also provides support as an academic staff member by facilitating programs related to the Taylor Institute's Certificates in University Teaching and Learning. Fouzia is one of the primary contacts for inquiries related to EDI in teaching and learning, and is excited to collaborate with members of the campus community to take this work forward.
Fouzia has an interest in promoting anti-oppression pedagogical practices at the postsecondary level and her research interests include decentering Whiteness in curriculum, anti-oppression pedagogy, equity and inclusivity in teaching and learning, and intercultural competency among faculty members.
Within the community, Fouzia currently serves as a member on the Calgary Police Services Anti-Racism Action committee. She also serves on the Anti-Racism Strategy Working Group for the City of Calgary.
Research
Areas of Research
Embedding equity, diversity, and inclusion in curriculum , Decentering whiteness in the curriculum, Anti-oppression pedagogy in higher education , Intercultural competency among faculty members
Courses
| Course number | Course title | Semester |
| --- | --- | --- |
| TI 0995 -001 | Equity, Diversity, and Inclusion in Post-Secondary Education | Fall 2021 |
| EDUC 450 | Diversity in Learning | Winter 2021 |
| EDUC 450 | Diversity in Learning | Winter 2020 |
| EDUC 450 | Diversity in Learning | Winter 2019 |
| EDUC 435 | Literacy, Language and Culture | Fall 2018 |
| EDUC 450 | Diversity in Learning | Winter 2018 |
| EDUC 445 | Individual Learning Theories | Winter 2018 |
| EDUC 450 | Diversity in Learning | Winter 2017 |
Awards
Roderick William Peden Memorial Graduate Scholarship in Education,

University of Calgary.

2017

Richard Hirabayashi Scholarship,

University of Calgary.

2014

Grace Hoover International Scholarship,

Southeast Missouri State University.

2004
Publications
Designing for Every Student: Practical Advice for Instructional Designers on Applying Social Justice in Learning Design.

El Khoury, E & Usman, F.. The Journal for Applied Instructional Design . (2021)

Racism and its Discomforting Truths: A Need to Shift towards Anti-Racism.

Usman, F. . O'Brien Institute for Public Health EDI Speaker Series. (2020)

Reflections on International Graduate Students and Their Community of Practice.

El Khoury, E & Usman, F.. Transformative Dialogues: Teaching and Learning Journal. (2018)

Teaching in White Spaces as a Visible Minority.

Aujla-Bhullar, S., Usman, F.. American Educational Research Association, Toronto, Ontario. (2019)