By the end of this lesson, you will learn to:  
Describe what adaptable course design is and when it can be used to modify an existing course during unexpected disruptions

Identify strategies to prioritize course material and optimize student learning in the event of unplanned periods
What is adaptable course design?
Adaptable course design maintains teaching and learning continuity by intentionally planning for uncertainties and disruptions to the semester (Bruff, 2020; McPeak, 2020). This approach to design requires the instructor to identify course elements such as content, instruction, activities, and assessments that can be adapted to appropriate modalities, including face-to-face, online, and blended learning.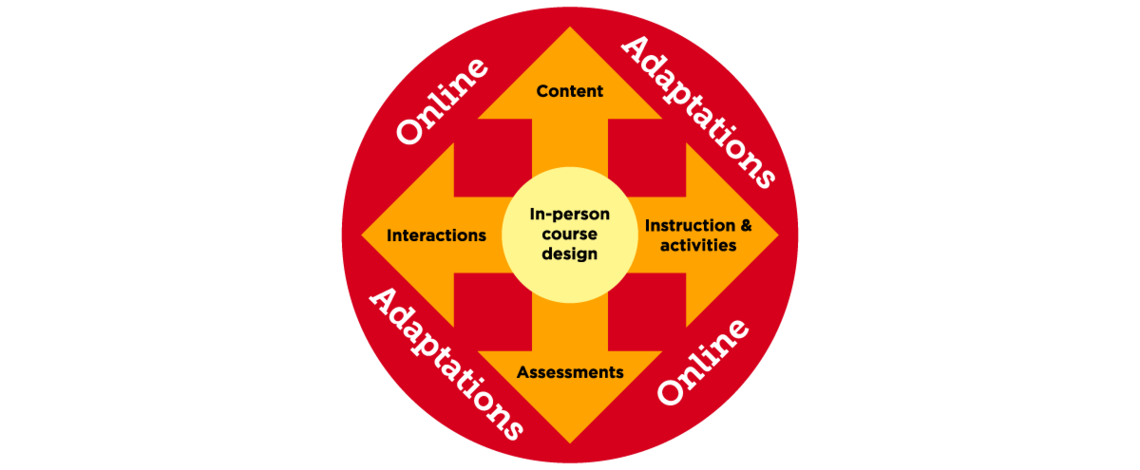 Why use adaptable course design?
The benefit of adaptable course design is to equip instructors and students to respond to disruptions in their learning environments. Adaptable course design will enable instructors to: 
Modify an existing course to be adaptable to a changing teaching and learning environment, 

Maintain continuity between learning environments during or after disruptions, 

Minimize disruptions to instruction, activities, and assessments, and 

Provide transparency and expectations to students when disruptions occur. 
How to get started with adaptable course design
Every course will have its unique opportunities and challenges. Adaptable strategies will depend on factors such as number of students, nature of the classroom, lab or tutorials, and pedagogical approaches.
 
When adapting to changing teaching contexts, the following questions might be helpful for your course design:
How will you communicate with a mix of students online and in the classroom? 

Have you considered instructor and student workload, time required to adjust to different methods, and learning environments? 

What is the anticipated duration of the disruption? A longer disruption will require more in-depth and sustained adaptations. 
What learning technology will support your adaptable course design plan? 
What opportunities and challenges can you foresee transitioning to different modalities to ensure learning continuity for you and your students? 

Are the course learning outcomes clearly worded and being appropriately assessed? 

What content can be put online to increase accessibility to students? Is content accessible outside of class time? 
Can the in-class activities and assessments you have selected be facilitated online or be adapted to do so? 
"When the emergency pivot to remote teaching happened in March 2020, I felt daunted at first but then less worried when I started reviewing the resources assembled on the TI Website. Years before, I moved almost all components of my course to D2L. I started this shift back in summer 2018 to get students on board with all the features of D2L while taking face-to-face classes. Over the years, we ironed out any D2L wrinkles and provided a good structure for students. They could navigate D2L and obtain files as well as submit work to D2L as a team or individual. When a quick shift to online teaching happened, we managed to run our class over Zoom in a very similar way. Students knew the pattern of how in-class time would proceed and how they could submit their work. We approached the course by being flexible, patient, empathetic, and transparent with students about why and how we made our choices for the new course structure. These intentional approaches helped reduce students' anxiety with changes and helped them succeed in a new learning environment." 
- Nicole Sandblom, Faculty of Science
Review your course learning outcomes and assessment plan 

Identify course elements that can be adapted to the online or blended environments

Complete the Adaptable Course Design worksheet