What is blended learning?
Joosten et al. (2020) define blended learning as a mix of "media or technologies allowing for a blend of modalities of learning, face-to-face and online" (p. 6). Thoughtful blended learning that purposefully utilizes different environments for instruction can lead to higher student engagement, knowledge retention, and enhance the overall student experience (Allen & Seaman, 2013; Means et al., 2010). 
Blended learning can be divided into four main models: blended face-to-face, blended online, flipped, and rotational (Cleveland-Innes et al., 2018).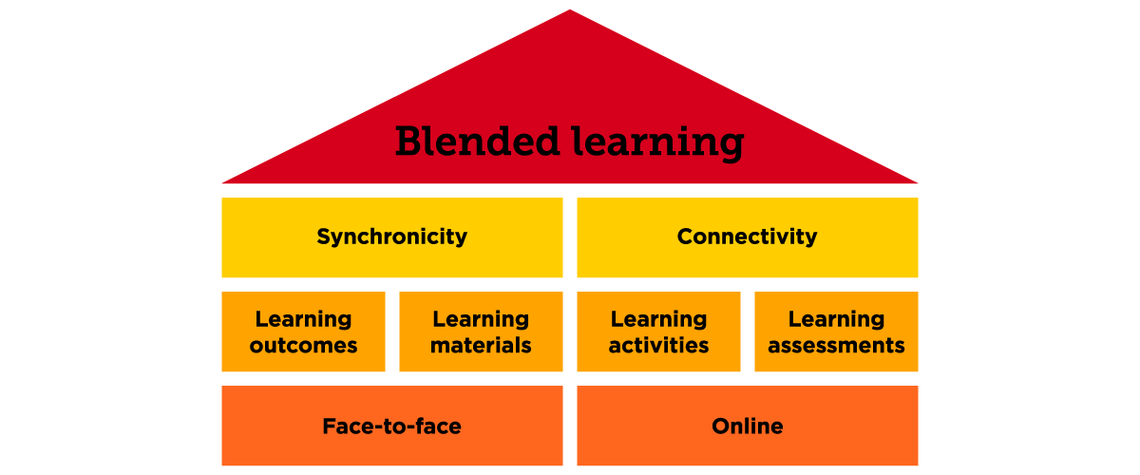 Guiding assumptions
This module was designed with the following assumptions in mind (Joosten et al., 2020): 
blended learning occurs when face-to-face and online environments are strategically integrated, and 
blended learning considers student-centered, active learning pedagogies that scaffold the student experience in both face-to-face and online environments. 
Universal Design for Learning (UDL) is used throughout the module as a framework for blended course design (Hall, Meyer & Rose, 2012). UDL principles are based upon leveraging multiple means of engagement, representation, action and expression in learning activities and assessments to provide equitable, accessible, and inclusive learning opportunities for diverse learners.  
Situating the course context
Choosing an appropriate blended learning model depends on the context of the course, including: 
Each blended learning model reviewed in these lessons includes reflective questions about these elements and strategies for making course design decisions based on the unique context of your course.  
Recognize how blended learning can be applied to multiple teaching contexts
Identify steps to start planning your blended learning course