University of Calgary Teaching Scholars
Funded by the Provost's Office, the University of Calgary Teaching Scholars Program, supported and managed by the Taylor Institute for Teaching and Learning (TI), is designed support faculty as they develop educational leadership capacity. Fields, Kenny and Mueller (2019) found that there are five pillars that underpin educational leadership capacity and success. Outlined in Figure 1, each of these pillars incorporates key qualities and behaviours associated with educational leadership. The Teaching Scholars Program is designed to support academic staff as they work to strengthen skills in each of these domains, by providing resources, support, and a community in which to develop their own educational leadership identity.
Important dates and deadlines
2022 applications are now open.
Peer review deadline: October 31, 2021
Application deadline: January 17, 2022
Adjudication process: February 2022 
Notice of Award: Results announced February 14, 2022
For questions about the program, please email teachingscholars@ucalgary.ca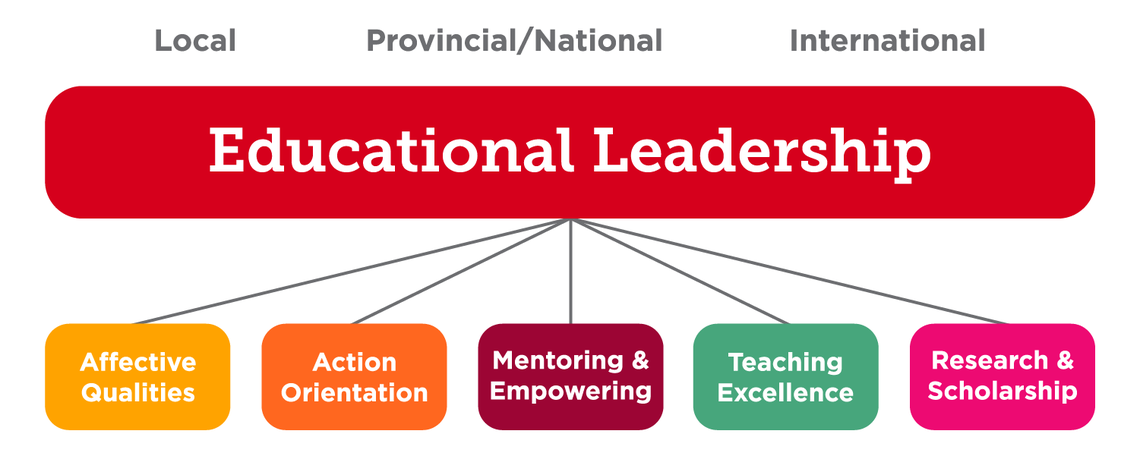 Accessibility, equity, inclusivity and diversity
Experiential learning and undergraduate research
Indigenous Perspectives and Ways of Knowing
Mental health and well-being
Online and blended learning
Including responses to the COVID-19 pandemic
Innovation and entrepreneurial thinking
Open educational resources
Online drop-in consultation sessions
Applicants are encouraged to book an appointment during an online session to discuss their proposed projects with the Academic Lead for Teaching and Learning Research.
Consultations will occur during August – December, 2021. Registration coming soon.
Internal peer review
Applicants are encouraged to submit their draft applications early in order to be eligible for internal peer review (IPR).
Applications submitted for this process will be delegated to a colleague experienced with Teaching Scholars applications and adjudications to provide suggestions for revisions before the final submission deadline.
Please note that making revisions as suggested does not guarantee success of the application in the adjudication process; rather the IPR process is offered as an opportunity for semi-formal feedback only.
Internal Peer Review Submission Deadline:
October 31, 2021
Internal Peer Review Feedback Returned:
November 30, 2021
Submissions for Internal Peer Review are accepted through the Teaching Scholars program's Open Journal Systems site.
If you do not have an OJS account you will need to register for one.
References
Fields, J, Kenny, NA, Mueller RA (2019). Conceptualizing educational leadership in an academic development program. International Journal for Academic Development, 24(3): 218-231.
Hannah, S.T., & Lester, P. B. (2009). A multilevel approach to building and leading learning organizations. The Leadership Quarterly, 20, 34-48.
Mårtensson, K., & Roxå, T. (2016). Leadership at a local level–Enhancing educational development. Educational Management Administration & Leadership, 44(2), 247-262.
Acknowledgements

The Taylor Institute would like to thank Dr. Dawn Johnston, Dr. Jackie Seidel and Dr. Wendy Benoit, Deans Council, the Teaching and Learning Leaders Network, the 2016-2019 University of Calgary Teaching Scholars and the Teaching and Learning Committee of the General Faculties Council, for their valuable contributions and input into the development of this program.