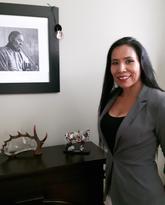 Gabrielle Lindstrom
Educational Development Consultant (Indigenous Ways of Knowing)
Academic & Research Team
PhD, Educational Research, Adult Learning
University of Calgary
MA, Native American Studies
University of Lethbridge
BA, English
University of Lethbridge
Role
EDC (Indigenous Ways of Knowing)
As educational development consultant for Indigenous ways of knowing, Dr. Lindstrom works closely with the TI and vice-provosts of teaching and learning and Indigenous engagement to advance Indigenous ways of knowing in campus teaching and learning communities, cultures and practices.
Biography
Dr. Lindstrom is a member of the Kainaiwa Nation which is a part of the Blackfoot Confederacy. Her teaching background includes instructing in topics around First Nation, Métis and Inuit history and current issues, Indigenous Studies (Canadian and International perspectives), Indigenous cross-cultural approaches, and Indigenous research methods and ethics. Her dissertation research focused on the interplay between trauma and resilience in the postsecondary experiences of Indigenous adult learners. Other research interests include meaningful assessment in higher education, Indigenous homelessness, intercultural parallels in teaching and learning research, Indigenous lived experience of resilience, Indigenous community-based research, parenting assessment tools reform in child welfare, anti-colonial theory and anti-racist pedagogy.
Click here for Dr. Lindstrom's full CV.
Publications
Selected publications
Lindstrom, G. (2020). Looking back to move forward: A narrative journey toward self. Women negotiating life in the academy. pp. 119-130. Springer Press.
Easton, L., Lexier, R., Lindstrom, G., & Yeo, M. (2019). Uncovering the complicit: The Decoding Interview as a Decolonizing Practice. In L. Quinn (Ed.), Reimagining curriculum: Spaces for disruption, pp. 149-77. African SUNmedia.
Choate, P. & Lindstrom, G. (2018). Assessing Aboriginal parents in Child Intervention: Rethinking the relationship. In D. Badry, H. M. Montgomery, D. Kikuwle, M. Bennet & D. Fuchs (Eds.), Prairie Child Welfare Consortium: Imagining Child Welfare in the Spirit of Reconciliation. pp. 93-115. Regina, SK: University of Regina Press.
Dyjur, P., & Lindstrom, G. (2017). Perceptions and Uses of Digital Badges for Professional Learning Development in Higher Education. Tech Trends, 61, 386–392. doi:10.1007/s11528-017-0168-2.
Lindstrom, G., & Dyjur, P. (2017). From student to instructor: Reflections on receiving and issuing digital badges for educational development. Transformative Dialogues, 9(3). https://kpu.ca/sites/default/files/Transformative%20Dialogues/TD.9.3.5_Lindstrom&Dyjur_From_Student_to_Instructor.pdf
Lindstrom, G., & Choate, P. (2016). Nistawatsimin: Rethinking assessment of Aboriginal parents for child welfare following the Truth and Reconciliation Commission. First Peoples Child & Family Review: An Interdisciplinary Journal, 11(2), 45-59. Retrieved from https://fpcfr.com/index.php/FPCFR/article/view/305.
Awards
Emerging Scholar, Research Recognition Award. Mount Royal University, Calgary, AB. 2020