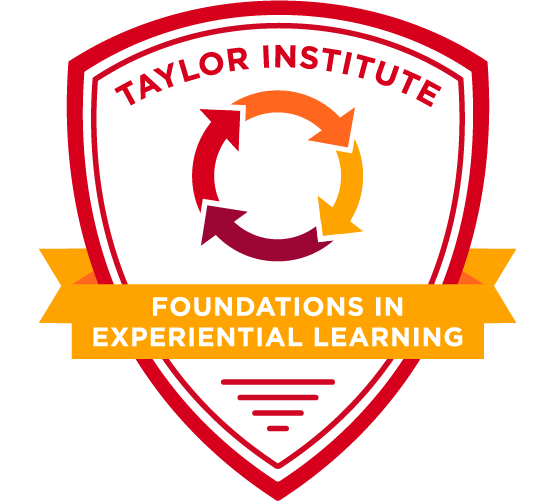 The Foundations in Experiential Learning (EL) Badge is composed of three workshops and a capstone project for a cohort interested in exploring EL as a means to facilitate student collaboration and enhance engagement. Each workshop will provide tools and insights to help participants consider how the EL cycle and assessing student learning through critical reflection can fit into the EL activities they teach.
This badge program is open to academic staff, graduate students, postdoctoral scholars and staff at the University of Calgary. In order to receive the badge, you must register and participate in all three sessions and complete the capstone project.
You will learn to:
Identify an EL activity
Generate a list of learning outcomes (LOs) that considers Kolb's EL cycle
Craft reflective prompts that consider Ash & Clayton's DEAL model
Assemble an assessment assignment for their EL activity
Employ some of the principles of authentic assessment to design or populate a rubric to discern student learning of the EL skills or competencies
Utilize the tenets of critical reflection of EL to produce a brief video/audio/text-based reflection of their learning in this badge
EL Foundations I: Aligning Learning Outcomes with Kolb's Experiential Learning Cycle

January 26, 2023
1 – 2:30 p.m.  

In Foundations I, participants will explore how to align EL learning outcomes (LO) with Kolb's (1984) EL cycle. Starting with the general question of "How does the EL cycle differ from a more traditional learning cycle?" and moving into "What do I want students to know?" and "How do I want them to know it through an EL activity?". Participants will be guided through the process of developing and aligning course learning outcomes with Kolb's EL cycle. This workshop will show how meaningful EL starts with an understanding of the different phases of the EL cycle. Participants will use Kolb's cycle to develop or refine their own course or program learning outcomes.

EL Foundations II: Defining Critical Reflection and Designing Effective Reflection Prompts

February 2, 2023
1 – 2:30 p.m.

In Foundations II, participants will generate critical reflection prompts according to Ash & Clayton's (2009) DEAL model for student reflection. Effective critical reflection is the essential element for ensuring meaningful EL and provides a bridge between students doing something and students learning from that doing. In this workshop, participants will explore the DEAL Model for critical reflection which aligns reflection prompts to course learning outcomes. Examples of various critical reflection style assignments and rubrics will be reviewed to encourage participants to think about how to design their own critical reflection assignments that meet overall course or program objectives.

EL Foundations III: Using Authentic Assessment in Experiential Learning

February 9, 2023
1 – 2:30 p.m.

In Foundations III, participants will examine the principles of authentic assessment and determine some to apply to their EL activities. EL often emphasizes learning objectives (LO) like problem-based learning, metacognition and collaboration. These outcomes require assessment methods that can discern how students have acquired the LO, the EL skills and competencies. In this workshop, participants will explore the principles of authentic assessment and apply some to their EL assessment plans for their classes or programs. Participants will also engage in hands-on exercises to develop or refine an assessment rubric for their own EL activities.

Capstone Project

Upon completing all three EL Foundations sessions, participants will create a critical reflection artefact of their learning across these three sessions, comprising the EL badge as text, video, or an audio recording equivalent to 150-250 words or 2-3 minutes audio media.
Kara Loy
Educational Development Consultant
(Experiential Learning & Undergraduate Research)